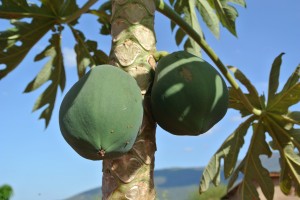 The plan is to develop the area into a field of study and development center that benefits both the orphans project and the community of Voi, i.e. becomes a resource in the community whilst ensuring the project financially in the long run. Components of this center would be to:
– A conference center for gathering the children in the program for education and recreation, as well as serve as a guesthouse for  external visitors.
– Part of the area shall be used for cultivation of various kinds. Corn and other crops, melons and fruits of various kinds to contribute as food for children, as well as to be sold to support the project.
– Hens, goats and chickens shall help to cover operational needs.
– The growing of crop and livestock should be in an ecologically sustainable way that benefits the environment, and also will serve as a model to the community. This business will also be a practical learning experience for children in the project.
– Some sort of processing operation should be launched as the center produces. This may involve a green house, the production of goat cheese or a mill to grind corn into flour.
– Development of biogas and solar energy will contribute to the energy supply of the development center.
– In the longer term, a school for disadvantaged children with special needs will be initiated. At that time student and staff housing should be located on the farm.